Lake County Quilters Guild, Inc. is a Florida Non Profit Corporation established to further the awareness and art of quilting in our community.

We meet every Tuesday at Lake Receptions. Doors open at 9 AM.
Our monthly business meeting is the first Tuesday of each month.  We also have meetings on the 2nd, 4th and 5th Tuesdays.   The 3rd Tuesday of each month is a Mini-Retreat where members and guests bring their projects to work on.  We do not have a meeting or show and tell at the Mini-Retreats.  Each meeting, we try to have a presentation by one of our own members or a guest instructor.
Show and Tell is at the end of each meeting.(unless we have a guest speaker)
Members who show a twin size quilt or larger will receive a thimble pin. Smaller quilted items shown receive a scissors pin.
Unless we have a planned program or charity work, the remainder of the day, until 2 p.m., is for you to work on whatever you wish or simply socialize.
We have a President, 1st VP, 2nd VP, Secretary, Treasurer and Asst. Treasurer. These officers, together with the Standing Committee Chairpersons and the prior President in an ex-officio capacity make up the Board of Directors. The Board of Directors meets the 3rd Tuesday of every month. All members are welcome to attend.
Each February we vote for new officers which are sworn-in in June.
Our current board:
Brenda K. – President     pres@lakequiltguild.com
Peggy C. – 1st Vice President  programvp@lakequiltguild.com
Libbey W. – 2nd Vice President   localprogvp@lakequiltguild.com
Pat A. –  Treasurer   treasurer@lakequiltguild.com
Jodi T. – Secretary  secretary@lakequiltguild.com
Membership contact: lcqgnewmember@lakequiltguild.com
Lake County Quilters Guild dues are $100 a year and are prorated quarterly.
Name badges are to be worn at each meeting. There is a $.25 fine for attending a meeting with no name badge.  You may either buy a kit and make your own name badge for $2.50 or you can order a customized badge for $8.50.
Classes and workshops given by our members are free.  For classes held after the meetings, there may be a small charge for a supply kit to cover expenses.  Registration is generally required for after meeting classes when the number of participants is limited.
We invite nationally known speakers and authors to our meetings. There is no charge to members for these lectures.
Their classes typically run between $20 to $60 and are either after lunch or on a different day.
Classes are limited in size and only open to members. It's a good idea to pay for the class when you sign up. Signing up without payment does not guarantee you space. Payment is non-refundable, a member on the waiting list may pay you for your space if you cannot attend.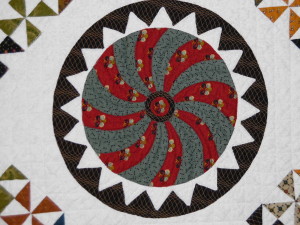 Each year the guild creates a one of a kind quilt to raise funds for the activities and charity work of the guild. Our "Quilt Nanny" aka "Nannyettes" are busy working on our next schedule of where our raffle quilt will be on display. When the quilt is completed, raffle tickets will be available for sale. The display schedule will be posted and you may purchase your raffle tickets at any of the show locations. Tickets are also available at our general meetings.
Library
We maintain a guild library for our members' convenience. It is open from approximately 9:00 – 11:00 each week.
You may check out items for 2 weeks at a time. If you are late there is a late fee (See our librarian or the  Library Rules for more info).
Roster
A membership roster is published annually. Please be sure to keep your contact information current.
Free Stuff
Each week members are encouraged to bring in quilting related items to share with other members. Items are placed on a table and all are welcome to sort through and take with them items they can use
To contact us:
Snail Mail:
Lake County Quilters Guild
P.O. Box 1065
Tavares, FL 32778
Telephone:
352-409-4370